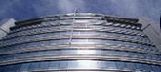 Asahi Bldg. 5th Floor 3-33-8, Tsuruya-cho, Kanagawa-ku, Yokohama-shi, Kanagawa, 221-0835, Japan
TEL : +81-45-412-6701
FAX : +81-45-412-6703


The Asahi building is 6 minutes on foot from West Exit of Yokohama station. Enter Joinus B1 floor and go out at the 12th south exit of it. You can find the 12-story Asahi building in the left direction on the pedestrian bridge at the Tsuruya-cho 3 intersection.


View Simple Map from Yokohama station (PDF)


View HIBIKI IP LAW FIRM in a larger map

View Hibiki IP LAW FIRM in a larger map